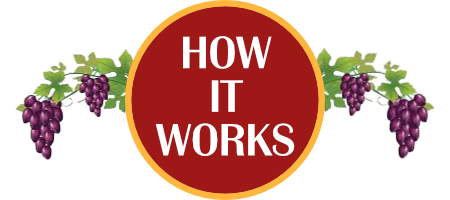 You can make wine at the brewery in three easy steps:
1
Choose your favourite wine or try something new!
2
You mix the ingredients.
Don't worry, we take care of hard work.
3
You return 4 - 6 weeks later to bottle your wine.
Now you're ready to enjoy fruits from around the world in your own home!
Please Note: To verify you're of legal drinking age (19) you must pay in person.
Frequently Asked Questions:
How much wine does each kit make?

Each kit makes approximately 28 - 30 750ml bottles of wine.



Do you supply bottles or can I bring my own? What about Corks?

Yes we supply brand new bottles at an additional cost. If you bring your own bottles please be sure to clean them at home. They will be sterilized during the bottling process at the brewery. Corks are included with our service fee.

Shrink wraps & (customizable) labels to dress up your bottles are available for an additional fee.



When do I come to the brewery?

Stop in anytime during our business hours or by appointment after hours to pick out and pay for your wine. Mix the ingredients in approximately 10 minutes.

In 4 - 6 weeks we will contact you to make an appointment for you to come to the brewery and bottle your finished wine.

Be sure to bring your friends, they may be interested in our wine related gifts or a batch of wine for themselves!



What if I don't like the wine?

Your on premise wine purchase is fully protected by our 100% Satisfaction Guarantee.

If at bottling time you are not happy with your finished wine, we will make another selection for you, in the same price level, without charge.

And if you are really, really unhappy with your wine, return it and we will cheerfully refund your purchase.




Feel free to ask our knowledgeable staff any questions you may have about your wine!